St. Luke's Players Honoured with
Saanich Arts, Culture & Heritage Award!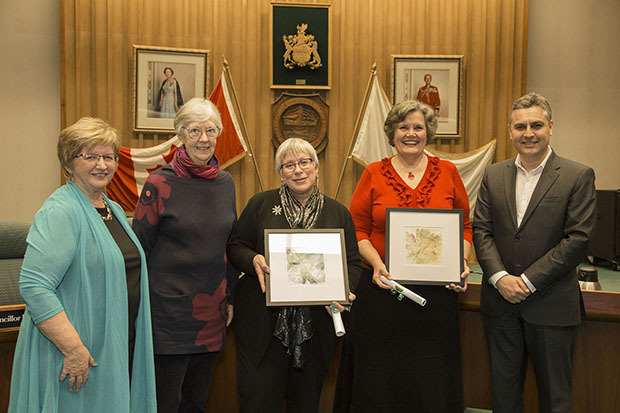 Coun. Vicki Sanders and Jenny Waelti-Walters, the artist who created the awards, stand with award recipients Margaret Bachman and Jane Guy, and Mayor Richard Atwell, for the inaugural Arts, Culture and History Awards presentation.— Image Credit: Derek Ford Photography
Excerpts of article by Travis Paterson - Saanich News
posted Dec 14, 2016 at 4:00 PM
District of Saanich councillors, directors and staff held a private tea and reception before publicly recognizing the inaugural winners of the Saanich Arts, Culture and Heritage Awards on December 5.
Margaret Bachman (Unsung Hero) and members of the St. Luke's Players (Cultural Stewardship) were at council while the other two winners, Mike Geric Construction (The Art of Business) and Sheila Blake (Individual Lifetime Achievement) were absent due to illness.
Each are given an original print, framed in glass, by artist Jenny Waelti-Walters.
The awards were created by the Arts, Culture and Heritage Committee, chaired by Coun. Vicki Sanders.
St. Luke's Players theatre group, which are now in their 68th season, was honoured with the Cultural Stewardship Organization award. St. Luke's has run a successful theatre operation out of St. Luke's Cedar Hill Anglican Church Hall, 'promoting and nurturing the arts' with grassroots theatrical productions.
Jane Guy, vice-president of the St. Luke's Players board, accepted the award on behalf of the group. Total membership is about 180 people with at least 30 people active during each show.
"There area lot of people who don't want to be on stage but they love being part of the organization. They'll help as stage managers, with props, sets, lighting, sound, or selling coffee, tea or tickets at the front of house," Guy said.
For the use of the facility, the theatre troupe shares 80 per cent of profits with St. Luke's Church.